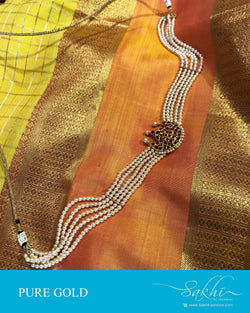 sakhifashionsin
AG-S006 - Gold & Pearl Gold Chocker
Pure Gold choker hancrafted using 3.060 Gms 14kt pure gold with pearl & red stones designed Half moon shape pendant neck choker. Ships in 15days.
Colour: Gold ,Pearl Material: Gold Craft: Hand made
Note: * Note there might be a slight colour variation. Please note gold price subject to change, please contact us before placing order for current price.