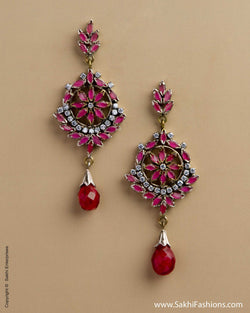 sakhifashionsin
AJ-0027 Fuchsia Earring
Stunning pair of earrings featuring Ruby like Pink Stones, the feminine hanging earring is inspired by flora.
A perfect blend of Modern & Victorian style
Stones (Ruby like), Diamante stones
Dimenions:  Height – 7 cms & Width – 3 cms
Earring with highlights in Pink:
Design inspired by Victorian jewelry and from the heirlooms of Indian royalty. The earring features faux Ruby like stones and diamante detailing. At Sakhi, over the years the designs have been adapted to the changing needs of the Indian woman. Exquisite fashion accessory and functional must go hand in hand. These elegant collector's items can be matched beautifully with the elegant sarees and even western outfits.
* Please note there might be a slight colour variation.