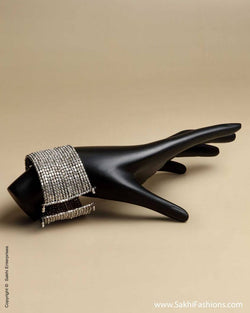 sakhifashionsin
AJ-0071Silver Cuff
The Bold and beautiful silver cuff forms a statement accessory. The material used is German silver and the adjustable cuff makes it easy to just strap onto ones wrist.
Color: Silver
Material: German Silver
Dimension:  Width – 5 cms
Care: Store in airtight plastic pouch when not in use

* Please note there might be a slight colour variation.