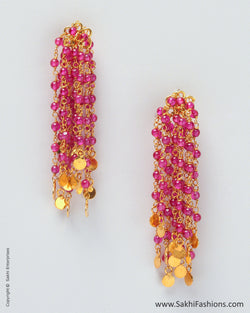 sakhifashionsin
AJ-0088 Pink Bunch
Stunning pair of earrings featuring pink beads set in brass.
Modern and Contemporary earrings
Pink beads, Brass wire & Copper Metal
Care: Store in airtight plastic pouch when not in use
Earring with highlight in Pink:
Design inspired by traditional Indian jewelry and from the heirlooms of Indian royalty. The earring features faux Pink beads. Over the years the designs have been adapted to the changing needs of the Indian woman with a range of designs which are exquisite fashion accessory and extremely functional too. These elegant collector's items can be matched beautifully with the elegant sarees and even western outfits. One can also look at the complete set of co-ordinated mala and bracelet.
* Please note there might be a slight colour variation