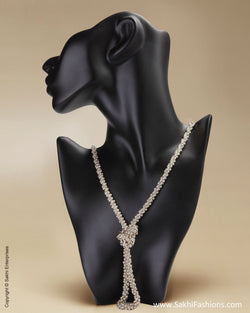 sakhifashionsin
AJ-0094 Silver coloured Long Mala
A silver colour long mala featuring brass detailing. This special mals is handcrafted by craftsmen ethnic to Orissa. This versatile mala can be worn in different ways- as single layer long mala, double layered mala, Mala with a knot (as shown) or even worn on the wrist as a multi layered bracelet.
Material
: Artificial / Mix metal Bead & Thread
Care :
 Store in air-tight plastic pouch when not in use
*Please note there might be a slight colour variation.