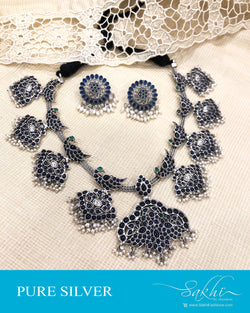 sakhifashionsin
ASDS-20922 Silver Indigo Necklace
Timeless indigo inspired Necklace and Earring set 127.80g ( N: 107.50grms & E: 20.30grms) handcrafted using Pure Silver 92.5. Statement Mala with Blue Stone & Pearl Kundan Necklace & Earring. Made to order ships in 20days.
Colour: Silver Material: Silver Craft: Necklace
Note: there might be a slight colour variation.