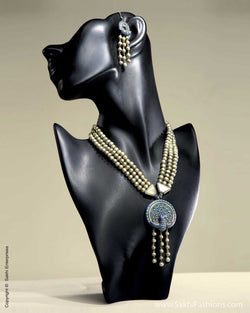 sakhifashionsin
AT-0003 Ethnic Peacock
Exotic terracotta necklace and earring set in antique gold finish and matching hanging earring.
Terracotta Accessories
Fragile: Needs care
Peacock inspired jewellery: Earring & Necklace work
Blue and Gold colour

Material: Terracotta Accessories
All designs are inspired by Nature and most of them are modified and taken from the temple traditions of India. Over the years the designs have been adapted to the changing needs of the Indian woman with a range of designs which are exquisite fashion accessory and extremely functional too. These delicate hand crafted masterpieces are a product of artisans from Bangalore. The classic design inspired mala is golden colour painted with multicolor detailing for effect. The set features an elaborate Mala with matching earring. 

* Please note Terracota accessories are fragile and we have taken utmost care to pack them in bubble wrap also note there might be a slight colour variation.