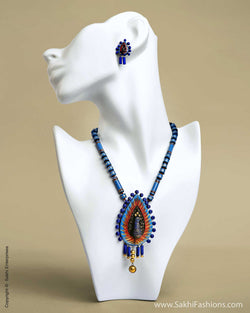 sakhifashionsin
AT-0024 Peacock Set
Stunning terracotta peacock inspired necklace and earring set featuring mala with a bold pendant in blue tone with matching earring.
Terracotta Accessories
Fragile: Needs care
Peacock inspired jewelry: Earring & Necklace
Blue tones (hand painted)
Peacock inspired Mala and Earring: All designs are inspired by Nature and this one is inspired by the eternally graceful and arresting Peacock. Over the years the designs have been adapted to the changing needs of the Indian woman to ensure they exquisite hand crafted fashion accessory and functionality. These elegant collector's items can be matched beautifully with the elegant sarees created by designer Chandra. The pendant mala and earring featured here can be best worn with the hand painted Kalamkari creation. 
* Please note Terracotta accessories are fragile and we have taken utmost care to pack them in bubble wrap. If in case it is damaged upon use Sakhi Enterprise will not be held responsible.