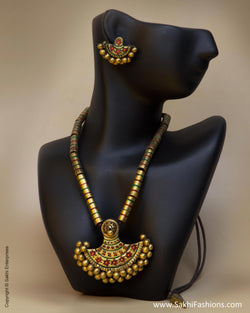 sakhifashionsin
AT-0036 Terra Gold
A modern touch to a Traditional mala, the pure gold colour touch adds glamour to a Traditional Terracotta mala highlighted with bold pendant and earring with Motif inspired by the traditional Indian Jewellery.
Terracotta Accessories – Made of Mud & Clay
Fragile & Breakable: Needs care
Traditional motif inspired jewellery
Studded style earring
Gold base colour with multi colour detailing
* 
Please note Terracota accessories are fragile and we have taken utmost care to pack them in bubble wrap. Please note there might be a slight colour variation
.