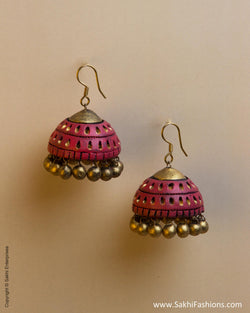 sakhifashionsin
AT-0039 Pink & Gold Terracotta Jhumka
Classic Jhumka recreated in earthy Terracotta, inspired by the Indian heirloom Jewellery. These ornaments are handcrafted delicately and boast of brilliant pink hue with sprinkle of Gold. A special mention that the earring features a hook form of the Jhumka and not the stud.
Terracotta Accessories – Made of Mud & Clay
Fragile & Breakable: Needs care
Traditional motif inspired jewellery
Jhumka Style earring, hook
 Pink base colour with gold colour detailing
* 
Please note Terracota accessories are fragile and we have taken utmost care to pack them in bubble wrap. Please note there might be a slight colour variation
.