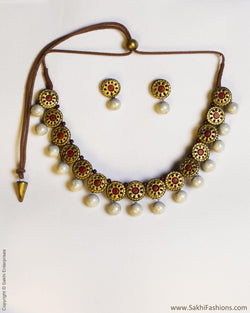 sakhifashionsin
ATDP-21461 - Gold & Yellow Terracotta Mala
Handcrafted terracotta mala with an adjustable back so that the length can be chosen by you, use it like a choker or make it longer. This is a complete set earring and mala included. This terracotta set is inspired by the heritage Indian heirloom crafted delicately with gold touch.
Terracotta Accessories – Made of Mud & Clay
Fragile & Breakable: Needs care
Terracotta stud Earring:
All designs are inspired by Nature and most of them are modified and taken from the temple traditions of India. These delicate hand crafted masterpieces are a product of artisans from Bangalore. The classic design inspired by traditional Indian Jhumka in golden colour painted with multi-color detailing for effect.
* Please note Terracotta accessories are fragile and we have taken utmost care to pack them in bubble wrap. Please note there might be a slight colour variation.