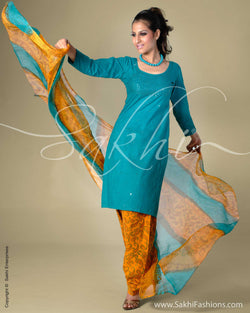 sakhifashionsin
CD-0001 Comfort Cotton
Pure Cotton Salwar Kameez featuring elaborate mirror work and Hand block printing on Salwar and Dupatta
100% Pure Cotton Top-Bottom & Chiffon Dupatta

Dry Clean Only

Elaborate Nalgonda Mirror work

Hand Block Printing


Material: Cotton
The soft, staple fibre that grows around the seeds of cotton, the tropical and subtropical shrub, produces this popular fabric. Cotton has an ease which lets the skin breathe well. Cotton has an excellent ability to absorb colour, which helps it manifest itself in myriad hues. This comfortable fabric does not need to lined with a base fabric. The Salwar Kammez comes with matching Dupatta in Chiffon.
Craft: Hand-Block Printing
One of the earliest and simplest methods of textile printing, Block printing is, very simply put, the printing of patterns on textile using incised wooden blocks. Block printing involves myriad steps, but the most important step is the preparation of the block which determines the quality and clarity of impressions. The block is then dipped in the desired dye and carefully placed adjacent to the preceding impression of the block as per the design. Sakhi gives a contemporary twist to block print by combining modern graphic designs like bold Zig Zag patterns in contrasting red and black hues on traditional Indian fabrics like Kanchivaram silks. The multiple stages involved in this hand craft makes the fabric soft making it fall well.The Kameez also features elaborate mirror work placed by skilled artisans in Nalagonda region in Andhra Pradesh, India. Each glass mirror is placed and stitched individually to create a grand necklace design, this same work is featured on the two sleeves as well.
* Please note the Salwar Kameez shown above is unstitched fabric only, Kameez- 2.5 mtrs, Salwar- 2mtrs and Dupatta- 2.5 mtrs. For custom salwar stitching please select from the finishing package above.