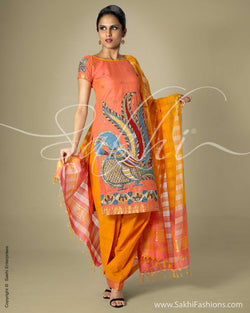 sakhifashionsin
CD-0005 Kalamkari n Cotton
Ships in 60days Mangalgiri Pure Cotton Salwar Kameez featuring elaborate Kalamkari applique on the Kameez, this elegant Salwar suit features a light cotton Dupatta is woven in missing check weave design.
100% Pure Cotton Silk Top-Bottom & Dupatta

Dry Clean Only

Kalamkari Hand painting on Top

Hand Embroidery featured
Material: Mangalgiri Cotton
Mangalgiri cotton fabric is woven in a town 12 Kms from Vijayawada, a prominent pilgrimage center in Andhra Pradesh, India and it is famous in producing unique sarees/dresses with a heavy zari border. A traditional Mangalagiri cotton fabric is characterized by a plain body with contrasting zari border. The colors are often very vibrant and some an interesting shot colour combination or small checks, called missing check weaving. The cloth is super finely woven with a crisp finish.
Craft: Kalamkari
Literally meaning drawing with a pen, sarees featuring the kalamkari craft have been adorned by women over the ages. There are two distinct styles of kalamkari - Srikalahasti and Machalipatnam. The fabric gets its glossiness from its immersion in milk and resin. Kalamkari fabrics are created in seventeen steps, using only natural dyes, with numerous washes. Typically, the motifs capture the essence of temple architecture and scenes from great epics. The muted kalamkari motifs in maheshwari silk or cotton are appliqued onto rich vibrant kanchivaram silks. One can also find this work of art handcrafted on tussar silk, crepe, chiffon, georgette and cotton. Kalahasti and Machlipatnam located in the state of Andhra Pradesh in south India are well known for various forms of kalamkari. Sakhi borrows from this craft and brings alive the soul of kalamkari with fashionable designs.
* Please note the Salwar Kameez shown above is unstitched fabric only, Kameez- 2.5 mtrs, Salwar- 2mtrs and Dupatta- 2.5 mtrs. For custom salwar stitching please select from the finishing package above. Please note there might be a slight colour variation.