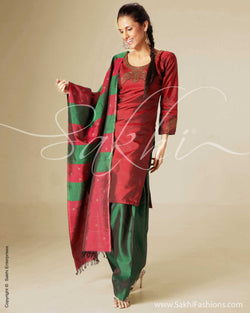 sakhifashionsin
CD-0006 Kanchi Salwar
Luxurious Kanchivaram Silk Salwar Kameez featuring elaborate Kundan Work hand embroidery on the neckline and sleeves, combined with a Dupatta sporting innovative weaving. Made to order ships in 30-40 days.  
100% Pure Kanchivaram Silk Top & Dupatta

bottom is faux silk 

Dry Clean Only

Kundan Work hand embroidery

Concept weaving
Material: Kanchivaram Silk
Kanchivaram is one of the superior silk fabrics and is woven by skilled weavers. This classic silk features concept weaving, in that the Pallu and Blouse in contrast colour and feature pure Zari stripes.Pure silk thread dipped in liquid gold is used to create the Zari stripes. This exclusive Salwar kameez features Bottle Green and Deep Maroon colour combination with the Dupatta featuring both the hues in alternating stripes with Zari buttas.
Craft: Hand Embroidery-Kundan work
This unique form of hand embroidery involves re-creating heritage jewel motifs adorned by Indian royalty. Colured stones are secured on the fabric then finished with hand embroidery technique called Zardozi work to create an element of luxury to add glamour and old world charm to the modest salwar. the motifs featured are inspired by peacocks.
* Please note the Salwar Kameez shown above is unstitched fabric only, Kameez- 2.5 mtrs, Salwar- 2mtrs and Dupatta- 2.5 mtrs. For custom salwar stitching please select from the finishing package above. Please note there might be a slight colour variation.