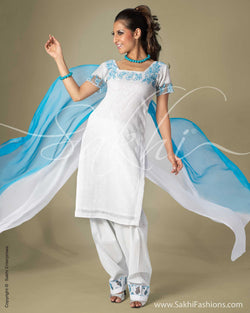 sakhifashionsin
CD-0007 Blue Cutwork Salwar
Pure Cotton Salwar Kameez featuring elaborate Cut work on Neckline and Sleeves . Made to order ships in 30-40 days
100% Pure Cotton Top-Bottom & Chiffon Dupatta

Dry Clean Only

White and Blue colour combination

Elegant Cut Work on Neckline and Sleeves
Material: Cotton
The soft, staple fibre that grows around the seeds of cotton, the tropical and subtropical shrub, produces this popular fabric. Cotton has an ease which lets the skin breathe well. Cotton has an excellent ability to absorb colour, which helps it manifest itself in myriad hues. This comfortable fabric does not need to lined with a base fabric. The Salwar Kammez comes with matching Dupatta in Chiffon.
Craft: Cut Work
A specialty of SakhiFashions is the treatment of this traditional form of fine needlework in a contemporary manner to transform a modest plain fabric of 6yards into a modern and trendy ensemble. In this form of embroidery, portions of the background fabric are cut away and the edges worked over. In this designer saree one can find geometric Cut Work with tissue appliqué. The yoke / neckline and sleeves feature floral inspired Cut Work.  
* Please note the Salwar Kameez shown above is unstitched fabric only, Kameez- 2.5 mtrs, Salwar- 2mtrs and Dupatta- 2.5 mtrs. For custom salwar stitching please select from the finishing package above. Please note there might be a slight colour variation.