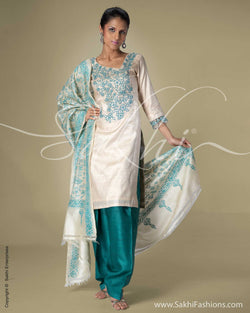 sakhifashionsin
CD-0008 Kantha & Tussar
Made to order min 40days. Classic  Tussar Silk Salwar Kameez with fully Kantha embroidered dupatta in Beige and Green combination layered with Cut Work embroidery for neckline and sleeves. 
Tussar Silk Top-Bottom & Dupatta

Dry Clean Only

Leaf green and Beige colour combination

Hand embroidery and Cut Work
Material: Tussar Silk
A delicate silk saree, highly valued for its purity and linear weaving texture. This silk is drawn from cocoons especially cultured on Arjun, Saja or Sal trees. Tussar silk is available naturally in shades of muted gold and mild beige. Tussar silk is considered ideal as well as auspicious for marriages, religious ceremonies and other functions and the stunning Green colour adds to the appeal. Tussar silk also finds a special place in designer Chandra's collection as it is one of her favorite fabrics.
Craft: Hand Embroidery and Cut Work
A specialty of SakhiFashions is the treatment of this traditional form of fine needlework in a contemporary manner to transform a modest plain fabric of 6yards into a modern and trendy ensemble. In this form of embroidery, portions of the background fabric are cut away and the edges worked over. In this designer saree one can find geometric Cut Work with tissue appliqué. The yoke / neckline and sleeves feature floral inspired Cut Work. The dupatta featured Kantha work detailing on the dupatta an elegant form of hand embroidery which is ethnic to Kolkata, India. 
* Please note the Salwar Kameez shown above is unstitched fabric only, Kameez- 2.5 mtrs, Salwar- 2mtrs and Dupatta- 2.5 mtrs. For custom salwar stitching please select from the finishing package above. Please note there might be a slight colour variation.