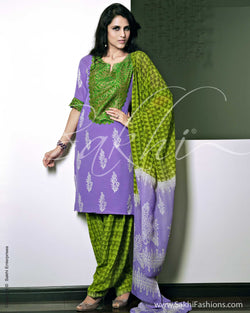 sakhifashionsin
CD-0091 - Green & Lavender Crepe Silk Salwar Kameez
Flowing Crepe silk Salwar Kameez and Chiffon Dupatta in Turquoise blue featuring Shibori Dyeing and Sequins work in Floral motif.
100% Pure Crepe Silk Top-Bottom & Chiffon Dupatta

Dry Clean Only

Hand Embroidery- Floral Sequins on the Top

Shibori Dyeing Technique

Material: Crepe Silk
Crepe features among the most popular fabrics made from silk yarn. The softer version of crepe is called ""crepe the chine"". Lustrous in visual appeal, crepe silk has a glamorous sheen and an excellent drape. It has a slippery smooth texture, with a crisp appearance. Crepe is woven from hard spun yarn in its natural condition. The fabric, when woven, is smooth and even. Once the resin is extracted, the fabric becomes soft, giving it a crimpy look. Sakhi uses this comfortable-to-wear, fluid silk to create designs that can be worn at all times.
Craft: Shibori Dyeing Techinique
This special tie and dye technique is an ancient Japanese dyeing process called SHIBORI. ""Arashi Shibori"", which means, ""storm"", is the term used for patterns created by wrapping fabric around a pole. A string is then wrapped around the fabric compressing it into pleats. For SHIBORI DYEING, the fabric is pushed to the end of the pole and dipped into a dye bath.
Craft: Hand Embroidery- Sequins Work
A Special form of hand embroidery wherein coloured sequins are placed in desired pattern and stitched by hand by skilled artisans, this adds to the glamour quotient. Sequins are available in numerous colours and sizes. These interesting elements need to placed and secured by careful hands of the artisan and make this saree perfect attire for party or formal occasions. This special Sakhi creation features white Deep Blue coloured in Kameez.
* Please note the Salwar Kameez shown above is unstitched fabric only, Kameez- 2.5 mtrs, Salwar- 2mtrs and Dupatta- 2.5 mtrs. For custom salwar stitching please select from the finishing package above.