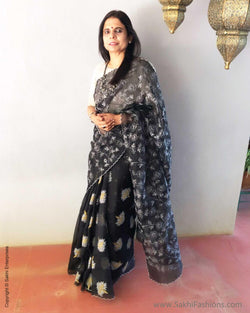 sakhifashionsin
EE-R25236 - Black pure Organza silk saree
Ships in 10days Our designer wearing Black Organza silk saree with Silver Color Thread Embroidery .Organza is a sheer, feather-like open weave fabric that is mildly heavier and more crisp than silk gauze, organza silk is traditionally made from the continuous filament of silkworms. It has a smooth, flat finish and sports a characteristic shine, obtaining its stiffness from tightly twisted yarns. At Sakhi, organza silk finds its way into day and evening wear designs.The saree comes with running Blouse.
Colour: Black | Material: Organza Silk | Craft: Emroidery
Occasion: Work wear, Festive, Wedding, Functions.
Note: If you wish for custom made Blouse please select from the Saree Finishing Packages. Note there might be a slight colour variation.