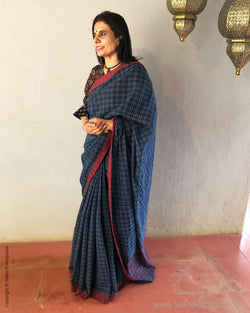 sakhifashionsin
EE-S14142 - Blue Cotton saree
Ships in 30Days Blue Cotton Saree with Self Checks & Running Blouse.This pure cotton saree is a specialty of Karnataka. Its a great all day sari, extremely comfortable for tropical climate.
Colour: Blue | Material: Cotton | Craft: Checks Design
Occasion: Casual, Work wear, All day saree, Summer.
Note: If you wish for custom made Blouse please select from the Saree Finishing Packages. Note there might be a slight colour variation.