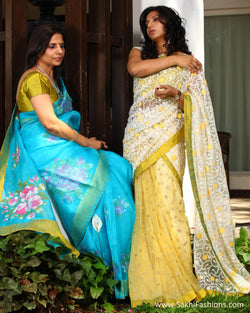 sakhifashionsin
EEP-L8G - Blue & Yellow Pure Organza Silk Saree
Crisp Organza Silk in brilliant Blue featuring floral inspired almost forgotten hand embroidery detailing. Pastel creations inspired by nature recreated using shadow work hand embroidery. The saree features contrast Green raw silk border detailing. Designer Chandra in Best of Sakhi collection.
Saree: 5.5 mtrs Blouse: Contrast Green raw silk blouse unstitched fabric.
Sakhis most innovative Crossover sarees are trendsetters this season. Flowing embroidered Net on top with a contrast of pearl encrusted net for the bottom makes this creation truly unique. Sakhi is known for unusual colour tones and this one is sure to make heads turn. Pristine Cream and Pastel Yellow make a brilliant combination. Crossover is an innovation by Sakhi, preset portion at the bottom needs to be tied just like a saree petticoat or any skirt and the remaining portion just flows across the left shoulder to complete the look. You could be ready in 30seconds. A unique creation from our Insta-Saree collection. Featured here Designer Neeta in Best of Sakhi collection.
Blouse: Combination Net with Embroidery detailing, Cream and yellow as unstitched fabric, similar to the image shown.
Note: If you wish for a custom made blouse, please select from the Saree Finishing Packages. Note there might be a slight print and color variation.
SAREE PETTICOAT MEASUREMENT
X
Please provide us your Custom Petticoat Size to ensure a good fit.
SAREE BLOUSE MEASUREMENT
X
Please provide us your Custom Measurements to ensure a good fit.