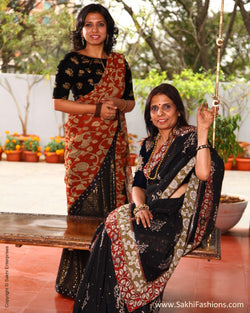 sakhifashionsin
EEP-L9G - Black & Multi Pure Chiffon Silk Saree
"
Form flattering pure chiffon Silk in Timeless Classic Black and earthy Rust and Green featuring hand block printing inspired by floral layered with hand Block print detailing. Kalamkari is fine form of hand painting featured on border is also inspired by nature recreated using vegetable dye extract. Designer Chandra in Best of Sakhi collection.
Saree: 5.5 mtrs Blouse: Contrast Kalamkari blouse unstitched fabric.
Sakhi's most innovative Crossover sarees are trendsetters this season. Handwoven Kanchi in Orange and Black on top with a contrast of Black Lace with detailing for the bottom makes this creation truly unique. Sakhi is known for unusual colour tones and this one is sure to make heads turn. Brilliant Orange and Black with a touch of Gold, Pure zari. Crossover is Sakhi's innovation, preset portion at the bottom needs to be tied just like a saree petticoat or any skirt and the remaining portion just flows across the left shoulder to complete the look. You could be ready in 30seconds. A unique creation from our Insta-Saree collection. Featured here Designer Chandra in "Best of Sakhi" collection carrys it off with elan.
Blouse: Combination of Kalamkari and Net with diamante detailing as unstitched fabric, similar to the image shown.
Handwoven Kanchi in brilliant Pink and Black featuring Kundan Hand embroidery. The saree features floral Kundan work with a touch of Pure zari handwoven detailing. Designer Neeta in Best of Sakhi collection.
Blouse: Contrast Black Kanchi blouse as unstitched fabric. The image shown here is for illustration.Trendy with infusion of classic elements. Designer Neeta in Best of Sakhi collection. Pure chiffon silk in dual tone Pink featuring Kanchivaram silk border and pallu in brilliant Bottle Green. Featured here a unique border attach Concept saree.Blouse: Contrast Bottle Green Kanchi blouse unstitched fabric as shown in image.
Note: If you wish for a custom made blouse, please select from the Saree Finishing Packages. Note there might be a slight print and color variation.
"
SAREE PETTICOAT MEASUREMENT
X
Please provide us your Custom Petticoat Size to ensure a good fit.
SAREE BLOUSE MEASUREMENT
X
Please provide us your Custom Measurements to ensure a good fit.