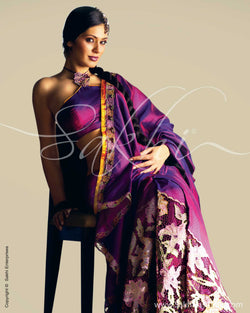 sakhifashionsin
SR-0015 Kanchi Cutwork Saree
Ships in 30days after lockdown opens. Kanchivaram silk featuring elaborate cut work on the pleats, accentuated by multi-coloured tissue appliquéd to exude the zari effect.
100% Pure silk
Dry Clean Only
High quality hand woven silk
Concept Saree- elaborate cut work in pleates
Double shade weaving for rich violet colour
Multicolour tissue appliqué

Material: Kanchivaram Silk:
One of the superior silk fabrics in the world, kanchivaram is woven by skilled weavers from the famed temple town of Kanchipuram. The designs on this luxurious silk reflect finely crafted motifs inspired by the temples of Tamil Nadu. With silk thread dipped in liquid gold and silver, these glorious motifs are brought to life by the gifted hands of artisans. Sakhi pays tribute to the age-old tradition of adorning kanchivaram silk, with a contemporary twist that suits the modern woman.

Craft: Cut Work:
Whether it is for an evening out or to make one feel beautiful during the day, cut work is a form of fine needlework that complements any hour. In this form of embroidery, portions of the background fabric are cut away and the edges worked over in buttonhole stitches. The applications of this craft include bold elaborate pallus with understated borders hand embroidered with cut work, or unique combinations with complementing block prints. Kerala in south India along with the Banaras and Bengal regions in north India are well known for cut work. Sakhi celebrates cut work on sarees and salwars, adding verve by infusing cut work with tissue applique, to make every occasion special.

* Please note the blouse worn by the model is a fashion suggestion and is not available with a Sakhi saree. However, every Sakhi saree comes with complementary blouse fabric.
SAREE PETTICOAT MEASUREMENT
X
Please provide us your Custom Petticoat Size to ensure a good fit.
SAREE BLOUSE MEASUREMENT
X
Please provide us your Custom Measurements to ensure a good fit.