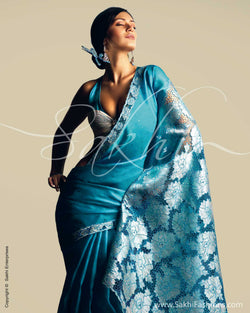 sakhifashionsin
SR-0016 Blue & silver Organza silk saree
Ships in 40days Organza silk featuring an elaborate cut work pallu with silver tissue appliquéd to exude the effect of silver zari and the body sprinkled with badla work, creating a starry effect. A sheer, feather-like open weave fabric that is mildly heavier and more crisp than silk gauze, organza silk is traditionally made from the continuous filament of silkworms. It has a smooth, flat finish and sports a characteristic shine, obtaining its stiffness from tightly twisted yarns. At Sakhi, organza silk finds its way into day and evening wear designs. The use of intricate hand embroidery on this preciously delicate silk makes it the epitome of elegance.Whether it is for an evening out or to make one feel beautiful during the day, cut work is a form of fine needlework that complements any hour. 
Colour: Blue,silver | Material: Organza silk | Craft: Applique embroidery,Cutwork
Note:If you wish for a custom made blouse, please select from the Saree Finishing Packages. Please note there might be a slight color variation.
Occasion:  Work wear, Wedding, Functions.
SAREE PETTICOAT MEASUREMENT
X
Please provide us your Custom Petticoat Size to ensure a good fit.
SAREE BLOUSE MEASUREMENT
X
Please provide us your Custom Measurements to ensure a good fit.