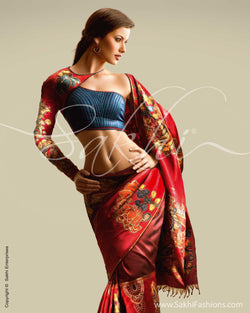 sakhifashionsin
SR-0020 - Maroon & Red Kanchivaram Silk Saree
Ships In 30Days made to order. Brilliant Kanchivaram silk in half n half pattern, with a deep maroon top half and a contrasting red bottom, separated by a line of zari, embellished with intricate kalamkari motifs, hand applique and embroidery. One of the superior silk fabrics in the world, kanchivaram is woven by skilled weavers from the famed temple town of Kanchipuram. The designs on this luxurious silk reflect finely crafted motifs inspired by the temples of Tamil Nadu.
Kalamkari Literally meaning drawing with a pen, sarees featuring the kalamkari craft have been adorned by women over the ages. The fabric gets its glossiness from its immersion in milk and resin. Kalamkari fabrics are created in seventeen steps, using only natural dyes, with numerous washes.

* Please note the blouse worn by the model is a fashion suggestion and is not available with a Sakhi saree , comes with kanchi blouse fabric.
SAREE PETTICOAT MEASUREMENT
X
Please provide us your Custom Petticoat Size to ensure a good fit.
SAREE BLOUSE MEASUREMENT
X
Please provide us your Custom Measurements to ensure a good fit.