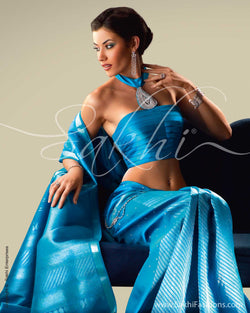 sakhifashionsin
SR-0027 Blue Silver Kanchi
Ships in 30days Exquisite blue kanchivaram silk embellished with diamante work, featuring a unique partly pallu design where the pleats, pallu and blouse shimmer with pure silver zari. One of the superior silk fabrics in the world, kanchivaram is woven by skilled weavers from the famed temple town of Kanchipuram. The designs on this luxurious silk reflect finely crafted motifs inspired by the temples of Tamil Nadu. With silk thread dipped in liquid gold and silver, these glorious motifs are brought to life by the gifted hands of artisans. Sakhi pays tribute to the age-old tradition of adorning kanchivaram silk, with a contemporary twist that suits the modern woman.
The rich Turquoise blue kanchivaram silk saree features concept weaving wherein silver zari is featured in the pleates, pallu and blouse. The design featured is a modern version of a traditional pattern called Leheriyan (slant lines). Pure silk thread dipped in liquid silver is used to create the slant lines of zari. Sakhi combines the modern elements such as silver zari, which complements diamond jewellery, together with traditional weaving.
* Please note the blouse worn by the model is a fashion suggestion and is not available with a Sakhi saree. However, every Sakhi saree comes with complementary blouse fabric. bba20 c60d Wash Care: Dry Clean
SAREE PETTICOAT MEASUREMENT
X
Please provide us your Custom Petticoat Size to ensure a good fit.
SAREE BLOUSE MEASUREMENT
X
Please provide us your Custom Measurements to ensure a good fit.