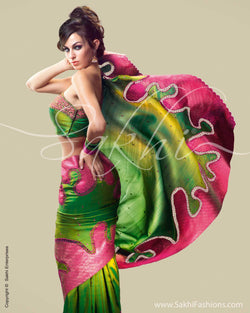 sakhifashionsin
SR-0028 - Kanchi Silk Saree With Cut-Work
Ships in 45Days Elegant kanchivaram silk featuring intricate cut work with Benaras brocade hand-appliquéd. Jeweled pink Kundan stones sprinkled on the body of the luxurious saree.
100% Pure silk
Dry Clean Only
High quality hand woven silk
Elegant lace like Cut work
Benaras brocade hand-appliqued
Delicate Kundan embroidery for jewelled effect
Material: Kanchivaram Silk:
Kanchivaram is one of the superior silk fabrics in the world, woven by skilled weavers from the famed temple town of Kanchipuram. This treasured silk in olive green features intricate cut work detailing with Benaras brocade hand-appliqué. The feminine wave design cut work creates an interestingly random border. The luxurious Benaras brocade in pink hue features minute leaf design, with a touch of green.  

Kundan Embroidery:
This exquisite form of embroidery allows the artisan to recreate a piece of jewellery on the garment. Kundan stones are fixed firmly by surrounding them with Zardosi hand embroidery, an art form that draws inspiration from the golden ages and revives majestic motifs inspired by royal Indian jewels.

Craft: Cut Work:
Sakhi uses this traditional form of fine needlework to transform modest plain Kanchivaram silk into a modern and trendy ensemble. In this form of embroidery, portions of the background fabric are cut away and the edges worked over in buttonhole stitches. The applications of this craft include bold elaborate pallus with understated borders hand embroidered with cut work, or unique combinations with complementing block prints.

* Please note the blouse worn by the model is a fashion suggestion and is not available with a Sakhi saree. However, every Sakhi saree comes with complementary blouse fabric.
SAREE PETTICOAT MEASUREMENT
X
Please provide us your Custom Petticoat Size to ensure a good fit.
SAREE BLOUSE MEASUREMENT
X
Please provide us your Custom Measurements to ensure a good fit.