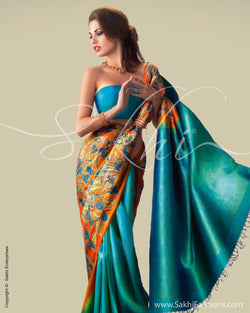 sakhifashionsin
SR-0030 Kalam Kanchi Sari
Ships in 30Days Luxurious Kanchivaram Silk in concept weaving with pleats and pallu featuring slant Zari line and the shoulder adorns elaborate Kalamakari hand painting applique.
100% Pure Kanchivaram Silk
Dry Clean Only
Kalamkari Hand painting
Hand embroidery
Concept Designer Saree - Partly Pallu Concept

Material: Kanchivaram Silk:
One of the superior silk fabrics in the world, kanchivaram is woven by skilled weavers from the famed temple town of Kanchipuram. The designs on this luxurious silk reflect finely crafted motifs inspired by the temples of Tamil Nadu. With silk thread dipped in liquid gold and silver, these glorious motifs are brought to life by the gifted hands of artisans. Sakhi pays tribute to the age-old tradition of adorning kanchivaram silk, with a contemporary twist that suits the modern woman.

Craft:Concept Weaving:
Exquisite kanchivaram silk woven as a concept saree with the pleats pallu and blouse in dual tone bluish hue and the rest of the body in contrast mustard colour- this concept is called Partly Pallu. The saree also featured unique slant lines on the blue hue called Leheryian lines to add to a contemporary feel.

Kalamkari:
Literally meaning drawing with a pen, sarees featuring the kalamkari craft have been adorned by women over the ages. There are two distinct styles of kalamkari - Srikalahasti and Machalipatnam. The fabric gets its glossiness from its immersion in milk and resin. Kalamkari fabrics are created in seventeen steps, using only natural dyes, with numerous washes. Typically, the motifs capture the essence of temple architecture and scenes from great epics. The muted kalamkari motifs in maheshwari silk or cotton are appliqued onto rich vibrant kanchivaram silks. One can also find this work of art handcrafted on tussar silk, crepe, chiffon, georgette and cotton. Kalahasti and Masulipatnam located in the state of Andhra Pradesh in south India are well known for various forms of kalamkari. Sakhi borrows from this craft and brings alive the soul of kalamkari with fashionable designs.

Hand Embroidery - Sequence Work:
A Special form of hand embroidery wherein coloured sequence are placed in desired pattern and stitched by hand by skilled artisans, this adds to the glamour quotient. Sequence are available in numerous colours and sizes. These interesting elements need to placed and secured by careful hands of the artisan and make this saree perfect attire for party or formal occasions. This special Sakhi creation features white Deep Blue coloured in Kameez.

* Please note the blouse worn by the model is a fashion suggestion and is not available with a Sakhi saree. However, every Sakhi saree comes with complementary blouse fabric.
SAREE PETTICOAT MEASUREMENT
X
Please provide us your Custom Petticoat Size to ensure a good fit.
SAREE BLOUSE MEASUREMENT
X
Please provide us your Custom Measurements to ensure a good fit.