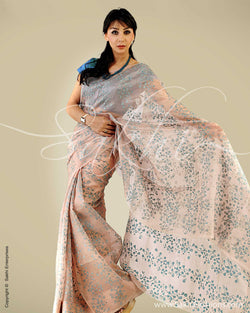 sakhifashionsin
SR-0034 Fleshtone Peach, Pink Organza Silk Saree
Ships in 45Days Crisp Organza silk in fleshtone Peach and Pink blend featuring stunning Hand Embroidery work in blue hue.
100% Pure Organza silk
Dry Clean Only
High quality Organza silk
Shadow work & Sequins work
Floral Motifs

Material: Organza Silk:
This silk is perfect for an evening out or for a beautiful day. Organza silk
is a sheer, feather-like open weave fabric that is mildly heavier and more crisp than silk gauze, organza silk is traditionally made from the continuous filament of silkworms. It has a smooth, flat finish and sports a characteristic shine, obtaining its stiffness from tightly twisted yarns. At Sakhi, organza silk finds its way into day and evening wear designs. Organza Silk breathes well and is light like feather, the translucent sheer effect makes it perfect for delicate hand embroidery.
Craft: Shadow Work:
A very subtle and interesting form of embroidery, shadow work uses sheer fabric in a manner wherein only the bare outline of a pattern appears on the surface, revealing the crisscrossed threads underneath, creating a shadow pattern. It is the opacity of the threads, worked on translucent sheer fabric, which defines this form of embroidery. The herringbone stitch reverses the shadow stitch by inverting the right side, revealing the actual thread in place of the shadow. Shadow work appears both delicate and intricate. Sakhi uses this effect in a variety of ways, making its garments versatile and stylish.
* Please note the blouse worn by the model is available with this Sakhi saree . There might be a minor colour variation between the saree displayed and the product delivered as all our creations are hand crafted.
SAREE PETTICOAT MEASUREMENT
X
Please provide us your Custom Petticoat Size to ensure a good fit.
SAREE BLOUSE MEASUREMENT
X
Please provide us your Custom Measurements to ensure a good fit.