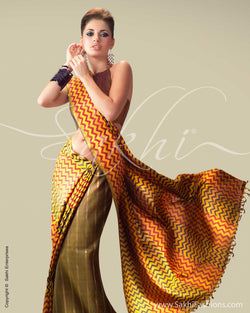 sakhifashionsin
SR-0036 Printed Kanchi Sari
Contemporary Kanchivaram silk featuring modern Zig-Zag Hand block print Pallu and blouse with contrast Zari striped body.
100% Pure Kanchivaram silk
Dry Clean Only
High quality hand woven silk
Concept Saree - Contrast Pallu & Blouse
Hand Block Printing
Silk becomes very supple and falls well
Material: Kanchivaram Silk
Kanchivaram is one of the superior silk fabrics and is woven by skilled weavers. This classic silk features concept weaving, in that the Pallu and Blouse in contrast colour and feature pure Zari stripes.Pure silk thread dipped in liquid gold is used to create the Zari stripes. (do not attach saree fall).
Craft:

Hand-Block Printing

One of the earliest and simplest methods of textile printing, Block printing is, very simply put, the printing of patterns on textile using incised wooden blocks. Block printing involves myriad steps, but the most important step is the preparation of the block which determines the quality and clarity of impressions. The block is then dipped in the desired dye and carefully placed adjacent to the preceding impression of the block as per the design. Sakhi gives a contemporary twist to block print by combining modern graphic designs like bold Zig Zag patterns in contrasting red and black hues on traditional Indian fabrics like Kanchivaram silks. The multiple stages involved in this hand craft makes the fabric soft making it fall well.


* Please note the blouse worn by the model is a fashion suggestion and is not available with a Sakhi saree. However, saree comes with complementary Kanchi blouse fabric. This saree has been draped in a contemporary fashion and the pallu featuring zari stripes has been used as inner edge, in reality that portion is the Pallu. The complementary blouse is similar to the Pallu i.e dark mustard featuring zari stripes
SAREE PETTICOAT MEASUREMENT
X
Please provide us your Custom Petticoat Size to ensure a good fit.
SAREE BLOUSE MEASUREMENT
X
Please provide us your Custom Measurements to ensure a good fit.