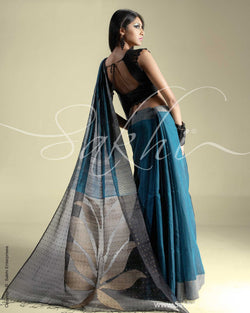 sakhifashionsin
SR-0045 Blue & Black Matka Silk Saree
Ships in 45Days Matka silk woven into an elaborate Organza silk pallu featuring Jute floral motifs,a special mention to the minute sequins woven into the fabric. 
100% Pure Matka silk
Dry Clean Only
Hand woven Matka silk woven into Organza silk Pallu
Elaborate Pallu featuring Jute floral motif
Woven sequins in Border and Pallu
Intricate hand embroidery- Mukeish / Badla

Material: Matka Silk
This is a mild handloom fabric is woven by skilled weavers in Bhagalpur, India. Matka silk is 100% pure silk, wherein the yarn in the warp is silk yarn, while the yarn in weft is obtained from the cocoons that are cut open by the moths as they emerge. By varying the amount of yarn used, the texture and thickness may be modified, Sakhi ensures the right grammage so that the saree has a mild stiffness and drapes like a gown. The saree features a dual tone in that deep Blue and Black are combined to create a rich blue for the body.

Material: Organza Silk
This silk is perfect for an evening out or for a beautiful day. Organza silk is a sheer, feather-like open weave fabric that is mildly heavier and more crisp than silk gauze, organza silk is traditionally made from the continuous filament of silkworms. It has a smooth, flat finish and sports a characteristic shine, obtaining its stiffness from tightly twisted yarns. At Sakhi, organza silk finds its way into day and evening wear designs. The matka silk body is woven into an organza silk pallu making it the epitome of elegance. A special mention to the innovation in weaving, wherein the sequins are woven into the Border and Pallu and not stitched by hand, this is a laborious process but ensures that sequins do not come off easily.
* Please note the blouse worn by the model is a fashion suggestion and is not available with a Sakhi saree. However, every Sakhi saree comes with complementary blouse fabric.
SAREE PETTICOAT MEASUREMENT
X
Please provide us your Custom Petticoat Size to ensure a good fit.
SAREE BLOUSE MEASUREMENT
X
Please provide us your Custom Measurements to ensure a good fit.