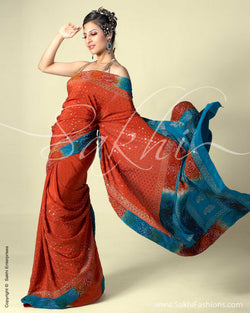 sakhifashionsin
SR-0047 Orange & Blue Crepe Saree
Ships in 45Days Flowing crêpe silk in Orange hue featuring Bandhini border attach with contrast Pallu. The body also features elaborate mirror work. 
100% Pure crepe silk
Dry Clean Only
High quality pure crepe silk
Bandhini Border attach
Hand embroidery- Mirror work

Material: Crepe Silk
Crepe features among the most popular fabrics made from silk yarn. Lustrous in visual appeal, crepe silk has a glamorous sheen and an excellent drape. It has a slippery smooth texture, with a crisp appearance. Crepe is woven from hard spun yarn in its natural condition. The fabric, when woven, is smooth and even. Once the resin is extracted, the fabric becomes soft, giving it a crimpy look. Sakhi uses this comfortable-to-wear, fluid silk to create designs that can be worn at all times.

Craft: Bandhini Border Attach
Bandhni was introduced in Jamnagar, India when the city was founded 400 years ago. The tie and dyed fabric takes its root from Gujarat and is a well kept secret of India. This craft form is also known as Bandhej or Bandhni. This art form is created by dyeing the cloth in such a manner that many small resist-dyed 'spots' are produced and then dyed in contrast colours to create interesting designs in simple or elaborate patterns. Over the years this art form has been evolved by local artisans and at Sakhi has used a unique technique called Border attach wherein the Bandhini patch is appliquéd onto the saree to form the Border and Pallu detailing.

Craft: Mirror Work
This craft features minute flat mirrors placed carefully on fabric and stitched by hand. Mirrors are glass-like, fragile, decorative elements available in numerous shapes. Sakhi weaves this craft in an unconventional fashion on a range of fabrics. Sequins and mirror work, in combination with hand-block print or cut work among other crafts, gives rise to interesting, unique creations.

* Please note the blouse worn by the model is a fashion suggestion and is not available with a Sakhi saree. However, every Sakhi saree comes with complementary blouse fabric.
P.S: *These sarees have been sourced by SAKHI keeping in mind the superior quality and designs that you come to expect from SAKHI.
SAREE PETTICOAT MEASUREMENT
X
Please provide us your Custom Petticoat Size to ensure a good fit.
SAREE BLOUSE MEASUREMENT
X
Please provide us your Custom Measurements to ensure a good fit.