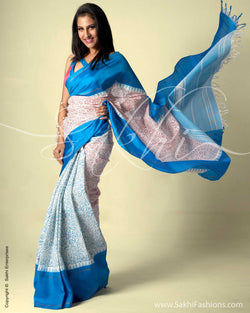 sakhifashionsin
SR-0059 White & Blue Cotton Saree
Ships in 45Days Pure Cotton Saree featuring pristine white body with contrast blue Silk Border, the saree is Hand block printed in Blue and Pink colours.
100% Pure Cotton handloom with Silk Border
Dry Clean Only
Korvai Saree- Cotton body Silk Border
Hand Block Printing in concept pattern

Material: Cotton
The soft staple fibre that grows around the seeds of cotton, the tropical and subtropical shrub, produces this popular fabric. Cotton has an ease which lets the skin breathe well. Cotton has an excellent ability to absorb colour, which helps it manifest itself in myriad hues. This comfortable fabric does not need to lined with a base fabric. The special Kanchi Cotton saree features a woven silk border in contrast blue colour. The weaving technique which combines cotton and pure silk is called Korvai weaving a unique style made famous by skilled weavers of Kanchipuram in Tamil Nadu.

Craft: Hand-Block Printing
One of the earliest and simplest methods of textile printing, Block printing is, very simply put, the printing of patterns on textile using incised wooden blocks. Block printing involves myriad steps, but the most important step is the preparation of the block which determines the quality and clarity of impressions. The block is then dipped in the desired dye and carefully placed adjacent to the preceding impression of the block as per the design. Sakhi gives a contemporary twist to block print by combining contrast colour like Pink and Blue in half and half style as shown.

* Please note the blouse worn by the model is a fashion suggestion and is not available with a Sakhi saree. However, every Sakhi saree comes with complementary blouse fabric. Please note there might be a slight colour variation
SAREE PETTICOAT MEASUREMENT
X
Please provide us your Custom Petticoat Size to ensure a good fit.
SAREE BLOUSE MEASUREMENT
X
Please provide us your Custom Measurements to ensure a good fit.