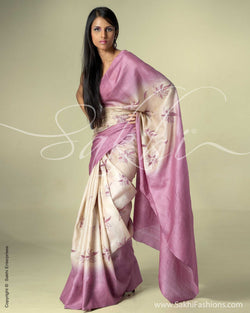 sakhifashionsin
SR-0068 Lilac Tussar saree
Ships in 30Days Elegant natural Tussar silk featuring subtle lavender shading on the border and pallu. The saree features Net-work embroidery in floral motifs all over the body. 
100% Pure Tussar silk
Dry Clean Only
High quality hand woven silk
Net- Work Embroidery
Concept dying in contrast Lavender

Material: Tussar Silk
Tussar Silk also known as Kosa silk, Tussar silk is highly valued for its purity and linear weaving texture. This type of silk is drawn from cocoons especially cultured on Arjun, Saja or Sal trees. Tussar silk is available naturally in shades of muted gold and mild beige. Tussar silk is considered ideal as well as auspicious for marriages, religious ceremonies and other functions. Sakhi uses tussar in its original hue in addition to dyeing the rich gold shade in wonderful colours with beautiful motifs, to make it suitable for today''s woman. Tussar, in combination with natural dyes like pomegranate, flower and fruit extracts exudes an understated yet classy elegance. This particular saree has Tissue woven in the fabric to add to the glamour and give the saree extra shimmer. Tussar also finds a special place in designer Chandra''s collection as it is one of her favourite fabrics.

Craft: Net - Work Embrodiery
Net is currently in vogue in the Indian fashion scene. This saree features Net work wherein the coloured Net fabric is appliquéd onto the base Tussar fabric and then stitched over to create interesting floral motifs. The saree also features innovative asymmetric dyeing in contrast lavender on border and pallu
* Please note the blouse worn by the model is a fashion suggestion and is not available with a Sakhi saree. However, every Sakhi saree comes with complementary blouse fabric. Please note there might be a slight colour variation
SAREE PETTICOAT MEASUREMENT
X
Please provide us your Custom Petticoat Size to ensure a good fit.
SAREE BLOUSE MEASUREMENT
X
Please provide us your Custom Measurements to ensure a good fit.