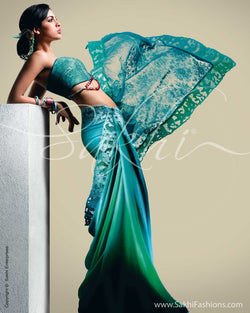 sakhifashionsin
SR-0072 Green & Blue Chiffon Saree
Ships in 45Days Flowing pure Chiffon silk saree in brilliant hues of blue and green featuring French Lace Pallu, with border featuring Sakhi's specialty Cut Work. 
100% Pure Chiffon Silk
Dry Clean Only
Tissue appliquéd Cut Work border detailing
Flora inspired Cut Work motifs
French Chantilly Lace Pallu

Material: Chiffon Silk
This pure chiffon silk is a light weight fabric, perfect for an evening out or a sunny summer day. The effervescent chiffon is a light, sheer fabric with a rich shimmer and a mild, granular texture. The twist in the yarn creases the fabric gently in both directions, giving it a slightly textured feel. Designer Chandra has shaded in an interesting shade of Blue and Green keeping the shading so perfect that one finds the shades of blue and green blending harmoniously. The saree features a delicate French Chantilly Lace pallu the two fabrics are fused together by Sakhi's special Cut Work.

Craft: Cut Work
A speciality of SakhiFashions is the treatment of this traditional form of fine needlework in a contemporary manner to transform a modest plain fabric of 6yards into a modern and trendy ensemble. In this form of embroidery, portions of the background fabric are cut away and the edges worked over. This uniquely designed saree is inspired by French lace hence featuring an elegant Chantilly French Lace Pallu and lace inspired Cut Work border detailing with Tissue appliqué.
* Please note the blouse worn by the model is a fashion suggestion and is not available with a Sakhi saree. However, every Sakhi saree comes with complementary blouse fabric and if you wish for a classic style please select from the Saree Finishing Packages (SF-2 to SF-5) . Please note there might be a slight colour variation.
SAREE PETTICOAT MEASUREMENT
X
Please provide us your Custom Petticoat Size to ensure a good fit.
SAREE BLOUSE MEASUREMENT
X
Please provide us your Custom Measurements to ensure a good fit.