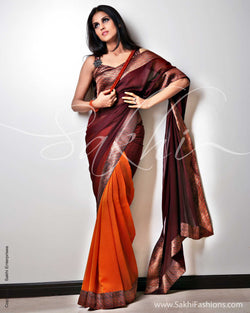 sakhifashionsin
SR-0089 Maroon & Orange Chiffon Saree
Ships in 45Days Look stylish in a flowing yarn dyed pure Chiffon Silk saree in deep maroon and orange hue featuring Benaras Brocade border detailing.
100% Pure Chiffon silk
Dry Clean Only
Flowing Yarn Dyed Chiffon Silk
Benaras Brocade Border detailing
Concept saree- Half n Half

Material: Chiffon Silk
This pure silk is a light weight fabric, perfect for an evening out or a sunny summer day. The effervescent chiffon is a light, sheer fabric with a rich shimmer and a mild, granular texture. The twist in the yarn creases the fabric gently in both directions, giving it a slightly textured feel. Sakhi mingles featherlike chiffon with different designs to create stunning sarees. The flowing yarn dyed chiffon silk saree in unique concept design- Half n Half wherein the saree is symmetrically devided into two halves. The saree features a Benaras border detailing adding sophistication and charm.
* Please note the blouse worn by the model is a fashion suggestion and we confirm the same brocade blouse is available with a Sakhi saree and if you wish for a classic style please select from the Saree Finishing Packages. Please note there might be a slight colour variation.
SAREE PETTICOAT MEASUREMENT
X
Please provide us your Custom Petticoat Size to ensure a good fit.
SAREE BLOUSE MEASUREMENT
X
Please provide us your Custom Measurements to ensure a good fit.