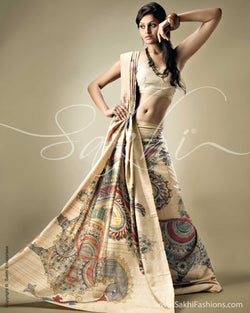 sakhifashionsin
SR-0099 Kalamkari Tussar Sari
Ethnic Tussar Silk saree exudes sophistication where the natural Tussar hue is painted upon by Kalamkari artists using vegetable dyes to create a masterpirce.
100% Pure Tussar Silk
Dry Clean Only
Kalamkari Hand painting 
Concept Designer Saree
Bold Peacock inspired motifs

Material : Tussar Silk
A delicate silk, highly valued for its purity and linear weaving texture. This silk is drawn from cocoons especially cultured on Arjun, Saja or Sal trees.Tussar silk is available naturally in shades of muted gold and mild beige. Tussar silk is considered ideal as well as auspicious for marriages, religious ceremonies and other functions. Sakhi uses natural Tussar silk in its beige hue this beautiful fabric is hand painted by Kalamkari artists to create a piece of art. Tussar silk also finds a special place in designer Chandra's collection as it is one of her favourite fabrics.
Craft : Kalamkari
Literally meaning drawing with a pen, sarees featuring the kalamkari craft have been adorned by women over the ages. There are two distinct styles of kalamkari - Srikalahasti and Machalipatnam. The fabric gets its glossiness from its immersion in milk and resin. Kalamkari fabrics are created in seventeen steps, using only natural dyes, with numerous washes. Typically, the motifs capture the essence of temple architecture and scenes from great epics. The muted kalamkari motifs in maheshwari silk or cotton are appliqued onto rich vibrant kanchivaram silks. One can also find this work of art handcrafted on tussar silk, crepe, chiffon, georgette and cotton. Kalahasti and Masulipatnam located in the state of Andhra Pradesh in south India are well known for various forms of kalamkari. Sakhi borrows from this craft and brings alive the soul of kalamkari with fashionable designs.
* Please note the blouse worn by the model is a fashion suggestion and is not available with a Sakhi saree. However, every Sakhi saree comes with complementary blouse fabric and if you wish for a classic style please select from the Saree Finishing Packages (SF-2 to SF-5). Do not attach fall to use the reverse side. Please note there might be a slight colour variation
SAREE PETTICOAT MEASUREMENT
X
Please provide us your Custom Petticoat Size to ensure a good fit.
SAREE BLOUSE MEASUREMENT
X
Please provide us your Custom Measurements to ensure a good fit.