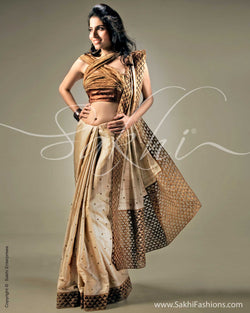 sakhifashionsin
SR-0103 Biege & Antique Tussar silk saree
Natural Tussar Silk saree in its sophisticated beige hue featuring geometric Cut-work with tissue appliqué, the body features sequin detailing. Tussar is a delicate silk, highly valued for its purity and linear weaving texture.Tussar silk is available naturally in shades of muted gold and mild beige. Having worked with a team of weavers in Chattisgarh Sakhi's designer Chandra has introduced Cut work with Brown tissue appliqué as part of latest collection.
Sakhi uses this traditional form of fine embroidery to transform modest plain saree into a modern and trendy ensemble .The applications of this craft include bold elaborate pallus with understated borders hand embroidered with cut work, or unique combinations creating lace like finishes. The inspiration is modern geometric design to create a simple but elegant border and pallu. The body of the saree features sequins work worked by skilled artisans.
Colour: Beige | Material: Tussar silk | Craft: Cutwork,applique embroidery
Note: If you wish for a custom made blouse, please select from the Saree Finishing Packages. Please note there might be a slight color variation.

Occasion: Work wear, Wedding, Functions.
SAREE PETTICOAT MEASUREMENT
X
Please provide us your Custom Petticoat Size to ensure a good fit.
SAREE BLOUSE MEASUREMENT
X
Please provide us your Custom Measurements to ensure a good fit.