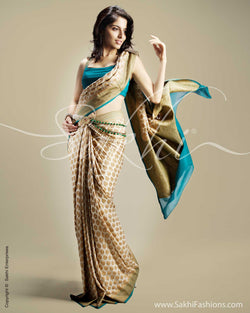 sakhifashionsin
SR-0111 Cream & Blue Georgette Saree
Ships in 30Days A fluid georgette Benaras Silk saree in a unique concept adorned with antique zari motifs woven by skilled weavers in pristine Cream and Green hue.
100% Pure Georgette Silk
Dry Clean Only
Flowing Georgette Silk
Benaras Weaving with antique Zari motifs
Pristine Cream & Emerald Green colour
Material: Georgette Silk
Another member of the pure silk family, georgette is a variant of pure crepe silk. The translucent nature of the fabric makes it well-suited for an evening out or a spring day. Georgette has a gauzy feel and comes in different grammages which contribute to the elegant fall of the fabric. These pure fabrics have an excellent ability to absorb colour, offering numerous colour permutations to the designer. At Sakhi, the saree is designed such that antique zari is woven into Georgette in Banaras weaving style. The concept is a simple body in cream and contrast Green Pallu and Blouse. 


Craft: Banaras weaving
Banaras is one of the rich weaving craft centres of India, famous for Brocade saris and fabrics. Exclusive varieties of the saris are Jangla, Tanchoi, Vaskat, Cutwork, Tishu and Butidar which are made of silk warp and silk weft, woven over that is a brocade layer with extra weft patterns in different patterns to create Buties, Creepers, Buttas in ground, border and pallu. This rich georgette silk Banaras saree features the Body of the sari in cream colour and Pallu and Blouse in contrast Emerald Green hue. The design is inspired by traditional motifs brought to life by anituqe Zari finish.
* Please note the blouse worn by the model is available with this Sakhi saree as running fabric and if you wish for a classic style blouse please select from the Saree Finishing Packages. Please note there might be a slight colour variation
SAREE PETTICOAT MEASUREMENT
X
Please provide us your Custom Petticoat Size to ensure a good fit.
SAREE BLOUSE MEASUREMENT
X
Please provide us your Custom Measurements to ensure a good fit.