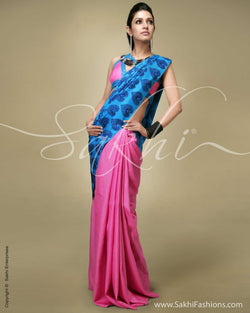 sakhifashionsin
SR-0121 Blue, Pink Half and Half Tussar Silk Saree
Ships in 45Days Elegant Tussar Silk saree featuring hand woven concept design in alternate multi hued panels, a unique combination of stripes and checks. 
100% Pure Tussar Silk
Dry Clean Only
Concpet Designer saree- Half n Half i.e colour change after pleats
Brilliant hues of Blue and Pink
The saree features Hand Block printing

Material: Kanchivaram Silk
One of the superior silk fabrics in the world, kanchivaram is woven by skilled weavers from the famed temple town of Kanchipuram. The designs on this luxurious silk reflect finely crafted motifs inspired by the temples of Tamil Nadu. With silk thread dipped in liquid gold and silver, these glorious motifs are brought to life by the gifted hands of artisans. Sakhi pays tribute to the age-old tradition of adorning kanchivaram silk, with a contemporary twist that suits the modern woman. The saree is hand woven in a unique concept deisgn Half n Half concept wherein the tuck in portion in pink hue featuring delicate zari motifs, the portion from the pleates onwards extending to the pallu in a contrast Blue tone featuring Hand block printing.

Craft: Hand Block Printing
One of the earliest and simplest methods of textile printing, Block printing is, very simply put, the printing of patterns on textile using incised wooden blocks. Block printing involves myriad steps, but the most important step is the preparation of the block which determines the quality and clarity of impressions. The block is then dipped in the desired dye and carefully placed adjacent to the preceding impression of the block as per the design. Sakhi gives a contemporary twist to block print by combining geometric designs with traditional Indian motifs like Peacock inspired in this saree. The multiple stages involved in this hand craft makes the fabric soft making it fall beautifully.
* Please note the blouse worn by the model is not available with this Sakhi saree the saree is accompanied by matching Kanchiavarm Silk fabric, and if you wish for a custom made classic style blouse please select from the Saree Finishing Packages. Please note there might be a slight colour variation
SAREE PETTICOAT MEASUREMENT
X
Please provide us your Custom Petticoat Size to ensure a good fit.
SAREE BLOUSE MEASUREMENT
X
Please provide us your Custom Measurements to ensure a good fit.