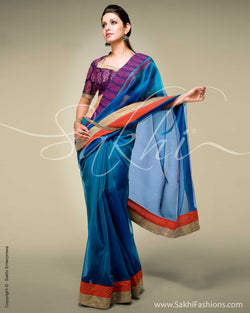 sakhifashionsin
SR-0123 - Blue & Red Organza Saree
Ships in 45Days Elegance at the Airport The Bangalore Airport is busy as usual, but the queue at the security check point is unusually slow. As I join the row of craning necks to see what the fuss is about, I'm mesmerized by an elegant lady in her late 30s.
She's wearing one of those organza silk sarees - a gorgeous blue with a contrasting Banaras border in muted beige. The saree comes with Beige colour blouse. The entire look is eye-catching, yet elegant.
She waits patiently, while the lady on security duty stares in stupor. "Is there a problem?" I hear her ask. This seems to break the spell. The khaki-clad woman hurriedly proceeds to stamp her boarding pass and hands it over saying, "Nahi madam," and adds, "Saree sundar hai aur aap bhi!" As she disappears through the gate in a flash of blue, the memory of her elegance lingers.

Please note the blouse worn by the model will come with saree as running fabric without embroidery, if you wish we can do the customization for embroidered blouse at an additional cost of Rs. 2000. 
Material: Organza Silk Craft: Border Collage  
SAREE PETTICOAT MEASUREMENT
X
Please provide us your Custom Petticoat Size to ensure a good fit.
SAREE BLOUSE MEASUREMENT
X
Please provide us your Custom Measurements to ensure a good fit.