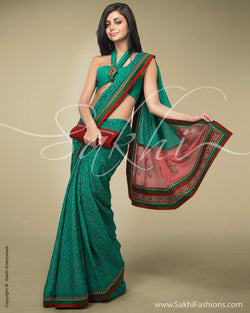 sakhifashionsin
SR-0135 Green & Peach Crepe Saree
Ships in 45Days Effortlessly flowing Crepe Silk saree featuring hand block printing with subtle border detailing and the final touch of delicate hand embroidery. 
100% Pure Crepe Silk
Dry Clean Only
Classy Bluish Green body colour with multi hue border detailing
A touch of glamour with Jaipur's Kadi Printing
Hand block printing & Border detailing
Material: Crepe Silk
Crepe features among the most popular fabrics made from silk yarn. The softer version of crepe is called "crepe the chine". Lustrous in visual appeal, crepe silk has a glamorous sheen and an excellent drape. It has a slippery smooth texture, with a crisp appearance. Crepe is woven from hard spun yarn in its natural condition. The fabric, when woven, is smooth and even. Once the resin is extracted, the fabric becomes soft, giving it a crimpy look. Sakhi uses this comfortable-to-wear, fluid silk to create designs that can be worn at all times, this stunning saree features a unique border detailing, Elegant understated raw silk borders featured in Red and Green and Contrast Pallu. The saree is perfect for a slightly dressy affair and the unusual colour tone makes the saree very appealing.
Craft: Hand Block Printing
One of the earliest and simplest methods of textile printing, Block printing is, very simply put, the printing of patterns on textile using incised wooden blocks. Block printing involves myriad steps, but the most important step is the preparation of the block which determines the quality and clarity of impressions. The block is then dipped in the desired dye and carefully placed adjacent to the preceding impression of the block as per the design. Sakhi gives a contemporary twist to block print in that the multi colour block printing on the saree is given a subtle highlight with a touch of Gold or Kadi printing. The saree features motifs inspired by the mogul period in Indian history, with emphasis on flora and nature. The saree also features delicate embriodery detailing on border and pallu.


* Please note the blouse worn by the model is available with this Sakhi saree and if you wish for a custom made classic style blouse please select from the Saree Finishing Packages. Please note there might be a slight colour variation
SAREE PETTICOAT MEASUREMENT
X
Please provide us your Custom Petticoat Size to ensure a good fit.
SAREE BLOUSE MEASUREMENT
X
Please provide us your Custom Measurements to ensure a good fit.