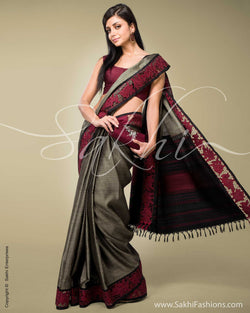 sakhifashionsin
SR-0144 Kanchi cutwork sari
Ships in 25Days reception area was crowded with candidates waiting to be interviewed. I stood in the queue patiently awaiting my turn for speaking with the receptionist to ask her to buzz me through for my meeting.
I heard the young lady calmly responding to every query and craned my neck in an attempt to catch her eye. She oozed confidence, draped in an elegant grey, maroon and black Kanchipuram silk. Woven Payadi checks and a mélange of cutwork and traditional zari motifs embellished the border and pallu adding a touch of pizazz to the classic color combination.
I noticed the line of people ahead of me captivated by her grace and beauty, and as I drew nearer, I had to agree that she deserved the attention. Well, she certainly was eye candy, but it was her saree that stole my heart.
SAREE PETTICOAT MEASUREMENT
X
Please provide us your Custom Petticoat Size to ensure a good fit.
SAREE BLOUSE MEASUREMENT
X
Please provide us your Custom Measurements to ensure a good fit.