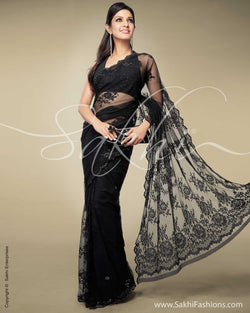 sakhifashionsin
SR-0146 Black Lace Saree
Ships in 30days Glamorous Lace in Classic Black featuring floral motifs with subtle highlights with diamante work. Slight changes in design. 
100% Pure French Lace
Dry Clean Only
French lace featuring floral motifs
Floral motifs on the body featuring Diamante Work
Classic Black colour
Chantilly Lace derives its name from the city Chantilly in France in tradition dating back to 17th Century. Cut Work is a form of hand embroidery that was inspired by this beautiful and delicate fabric. French Chantilly lace creates a sophisticated look and is perfect for evening or more formal occasions. The French lace is very delicate and sheer and has an understated elegance. The saree features floral motifs woven and highlighted by diamante work which completes the look.
* Please note the blouse worn by the model is available with this Sakhi saree and if you wish for a custom made classic style blouse please select from the Saree Finishing Packages. Please note there might be a slight colour variation
SAREE PETTICOAT MEASUREMENT
X
Please provide us your Custom Petticoat Size to ensure a good fit.
SAREE BLOUSE MEASUREMENT
X
Please provide us your Custom Measurements to ensure a good fit.