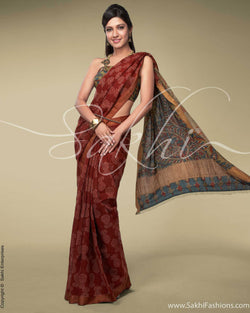 sakhifashionsin
SR-0167 - Maroon & Green Cotton Saree
Ships in 45Days Earthy elegance in modest Mangalagiri Cotton featuring Japiur's Tabu printing on body and elaborate Kalamkari hand painting on pallu and blouse. 
100% Pure Mangalgiri Cotton
Dry Clean Only
Elaborate hand painting- Kalamkari
Body Featuring Hand block Printing
Pallu and Blouse featuring Kalamkari Hand painting
Material : Mangalagiri Cotton
The soft, staple fibre that grows around the seeds of cotton, the tropical and subtropical shrub, produces this popular fabric. Cotton has an ease which lets the skin breathe well. Cotton has an excellent ability to absorb colour, which helps it manifest itself in myriad hues. The special Cotton is woven in parts of Andhra Prades hand is hand spun and woven by skilled weavers. The cotton is of superior quality and comes in many grammages and weaving detail like missing checks as in this saree. The fabric features missing checks weaving.
Craft : Kalamkari- Hand Painting
Kalamkari means literally drawing with a pen, sarees featuring the kalamkari craft have been adorned by women over the ages. There are two distinct styles of kalamkari - Srikalahasti and Machalipatnam. The fabric gets its glossiness from its immersion in milk and resin. Kalamkari fabrics are created in seventeen steps, using only natural dyes, with numerous washes. Typically, the motifs capture the essence of temple architecture and scenes from great epics. Sakhi borrows from this craft and brings alive the soul of kalamkari with fashionable designs. The motifs are inspired by peacock and nature. The saree features ellaborate Kalamkari hand painting on the Pallu and Blouse.
* Please note the blouse worn by the model is available with this Sakhi saree and if you wish for a custom made classic style blouse please select from the Saree Finishing Packages . Please note there might be a slight colour variation.
SAREE PETTICOAT MEASUREMENT
X
Please provide us your Custom Petticoat Size to ensure a good fit.
SAREE BLOUSE MEASUREMENT
X
Please provide us your Custom Measurements to ensure a good fit.