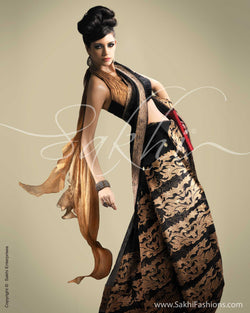 sakhifashionsin
SR-0178 Black Banarasi Sari
Ships in 40days Elegance personified in Banaras net in classic Black featuring tissue appliqué embroidery in a unique concept design.
100% Pure Banaras Net
Dry Clean Only
Banaras Net fabric featuring Gold zari butta all over woven motif
Classic of Colours- Black and Antique Bronze
Appliqué embroidery featuring Concept Asymmetric design

Material- Banaras Net
A light and easy to handle fabric this season is the Net. Banaras is one of the rich weaving craft centers of India, famous for Brocade saris and fabrics. Exclusive varieties of the saris are Jangla, Tanchoi, Vaskat, Cutwork, Tishu and Butidar which are made of silk warp and silk weft, woven over that is a brocade layer with extra weft patterns in different patterns to create Buties, Creepers, Buttas in ground, border and pallu. This classic Black saree features Zari butta detailing on the body. The saree here is Sheer light Banaras Silk saree in Black featuring woven round zari motifs spread out all over the saree.
Craft- Appliqué Embroidery
Appliqué work is a traditional form of embroidery wherein Bronze tissue is layered over the Banaras Net fabric and then the design is traced onto the Tissue. The trace design is worked over with stitch detail the excess fabric is cut away. The saree features a unique concept in that the appliqué design such that it rises from tuck-in to pleats and then again from the pleats to pallu, the saree creates a unique pattern abstract in nature. The saree features an antique border attach detailing. The Concept makes it very easy to handle saree and truly a visual treat.
* Please note there may be a slight colour variation and if you wish for a custom made blouse please select from the Saree Finishing Packages
SAREE PETTICOAT MEASUREMENT
X
Please provide us your Custom Petticoat Size to ensure a good fit.
SAREE BLOUSE MEASUREMENT
X
Please provide us your Custom Measurements to ensure a good fit.