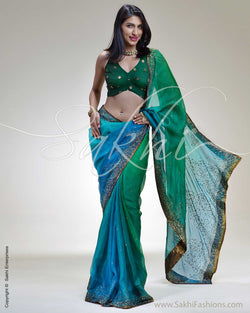 sakhifashionsin
SR-0205 Blue & Green Kota Silk Saree
Ships in 30days after lockdown opens The Peacock Princess The botanical garden is silent except for the rustle of the leaves overhead, until the cry of a peacock cut through the air. Seeing flashes of green and blue through the trees, I rush forward, hoping to catch sight of the majestic bird.
Instead, I encounter a beautiful young lady in one of those shaded silk Kota sarees in emerald green and peacock blue. A sprinkle of antique sequins along the border and shimmer tissue highlighting on the back of the border add a golden glow.
As she turns towards me, pointing to a branch where a peacock is strutting with its plumage on display, I notice the gorgeous green Banaras blouse with hand embroidered motifs. "Have you seen a more beautiful sight?" she whispers. Looking at the perfect picture that she presents, which makes the peacock pale in comparison, I can only agree.
SAREE PETTICOAT MEASUREMENT
X
Please provide us your Custom Petticoat Size to ensure a good fit.
SAREE BLOUSE MEASUREMENT
X
Please provide us your Custom Measurements to ensure a good fit.