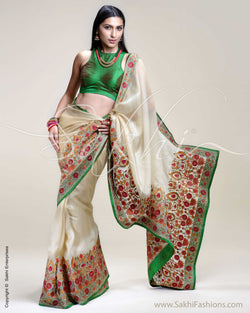 sakhifashionsin
SR-0207 Biege & Green Organza Saree
Ships in 45Days

Spring Princess
At the haveli, the spring air was cool and crisp. The garden was a riot of colors with flowers in bloom. The rays of the setting sun bathed the entire scene in a golden glow, while the flickering flames of the lanterns added to the magic.
As I looked around, entranced by the history and heritage, I saw a stunning vision at the entrance to the courtyard. Under the orange glow of sunset, her beige silk saree looked almost like it had been spun from gold. As she drew nearer, I noticed the thin floral embroidery on the top border and broader detailing and green raw silk on the bottom half. The matching green raw silk blouse created a gorgeous spectacle.
When she asked if my stay had been comfortable so far, I realized that she was the owner of the haveli, not the spring princess.
SAREE PETTICOAT MEASUREMENT
X
Please provide us your Custom Petticoat Size to ensure a good fit.
SAREE BLOUSE MEASUREMENT
X
Please provide us your Custom Measurements to ensure a good fit.