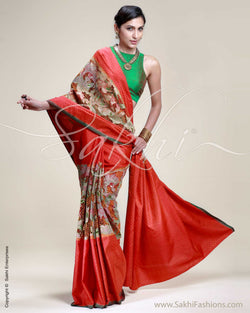 sakhifashionsin
SR-0209 Orange & Multi Colour Kanchivaram Silk Saree
Ships in 30Days Brilliant orange hand woven Kanchivaram silk saree featuring elaborate floral Cut Work on mid-portion, the saree is woven a special Payadi weaving pattern as border pattern.
100% Pure Kanchivaram Silk
Dry Clean Only
High quality hand woven Kanchivaram silk
Cut work on mid portion inspired by floral, Tissue appliqued
Colour: Brilliant Orange, Multi colour on cut work and contrast green detailing
The saree comes with a running blouse fabric (Payadi Orange Kanchi silk) with cut work for the sleeves 
Material: Kanchivaram Silk
One of the superior silk fabrics in the world, kanchivaram is woven by skilled weavers from the famed temple town of Kanchipuram. The designs on this luxurious silk reflect finely crafted motifs inspired by the temples of Tamil Nadu. With silk thread dipped in liquid gold and silver, these glorious motifs are brought to life by the gifted hands of artisans. Sakhi pays tribute to the age-old tradition of adorning kanchivaram silk, with a contemporary twist that suits the modern woman.The saree is woven using two tone thread- Orange and Red to create the Payadi / Matt weaving pattern seen here on the borders and pallu, the saree in 3 portion / lond border pattern.
Craft: Cut Work
Whether it is for an evening out or to make one feel beautiful during the day, cut work is a form of fine needlework that complements any hour. In this form of embroidery, portions of the background fabric removed to create interesting designs and motifs. The applications of this craft include bold elaborate pallus with understated borders hand embroidered with cut work, or unique combination of jacquard weaving. The Saree features elaborate tissue appliqué Cut work on the centre portion with motifs inspired by floral.
* Please note the blouse worn by the model is not available with this Sakhi saree it comes with a running blouse in orange and if you wish for a classic style please select from the Saree Finishing Packages. Please note there might be a slight colour variation.
SAREE PETTICOAT MEASUREMENT
X
Please provide us your Custom Petticoat Size to ensure a good fit.
SAREE BLOUSE MEASUREMENT
X
Please provide us your Custom Measurements to ensure a good fit.