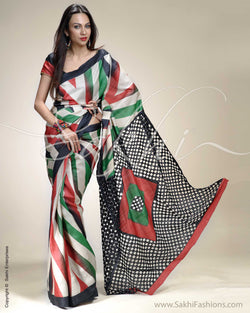 sakhifashionsin
SR-0213 Tussar cutwork saree
Ships in 30Days Eternally elegant Tussar silk in muted beige featuring multi hue Hand block printing and Sakhi's specialty Cut work detailing on the pallu.
100% Pure Tussar Silk
Dry Clean Only
Cut work design on elaborate Pallu
Classic beige and multi colour
Modern bold motifs come alive with Zig Zag and Geometric designs 
Material: Tussar Silk
A delicate natural silk, highly valued for its purity and linear weaving texture. This silk is drawn from cocoons especially cultured on Arjun, Saja or Sal trees. Designer Chandra is partial to this silk which oozes sophistication and timeless elegance, Tussar silk in its natural shade ranges from muted gold to mild beige, in this saree we have used the natural hue as base treated it with multi colour geometric block printing to bring out a modern yet classic interplay of colours on Tussar Silk.
Craft: Cut Work
Cut work is a fine form of fine needlework that complements and elevates any garment to sheer elegance. In this form of embroidery, portions of the background fabric removed to create interesting designs and motifs. This designer Tussar silk saree features elaborate Cut Work embroidery on the Pallu. Sakhi celebrates cut work by adding verve to this modest Tussar silk saree, to make every occasion special.
* Please note the blouse worn by the model is available with this Sakhi saree and if you wish for a custom made classic style blouse please select from the Saree Finishing Packages. Please note there might be a slight colour variation.
SAREE PETTICOAT MEASUREMENT
X
Please provide us your Custom Petticoat Size to ensure a good fit.
SAREE BLOUSE MEASUREMENT
X
Please provide us your Custom Measurements to ensure a good fit.