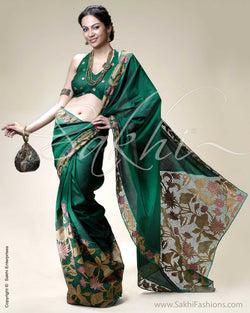 sakhifashionsin
SR-0215 Green & Multi Colour Kanchivaram Silk Saree
Ships in 30days

Precious Gem
The glowing bride was the cynosure of all eyes on her wedding day. I could see the doting father standing behind her and getting teary eyed as family members took turns in offering their blessings. Standing beside him and offering her support was a pretty young lady – the bride's sister, I assumed.
Draped in an emerald green Kanchipuram silk saree, she was as stunning as the bride, but it was obvious that she had planned not to outshine her sister. My eyes were drawn to the elaborate cutwork on the pleats, which were accentuated by a multi-coloured tissue applique that made it look like zari embroidery. She exuded the sophistication and beauty of a rare gem.
As I turned to look around at the other guests, I realised that I was not the only one who had been captivated by her sparkle.
SAREE PETTICOAT MEASUREMENT
X
Please provide us your Custom Petticoat Size to ensure a good fit.
SAREE BLOUSE MEASUREMENT
X
Please provide us your Custom Measurements to ensure a good fit.